Pantone, Inc. is the world-renowned authority on colour. Each year, they select and "it" colour. And for 2011, that colour is Honeysuckle.
"A Color for All Seasons: Courageous. Confident. Vital. A brave new color, for a brave new world. Let the bold spirit of Honeysuckle infuse you, lift you and carry you through the year. It's a color for every day – with nothing "everyday" about it."
Read more from Pantone here.
Ok, enough background on the colour. Let's talk this room! My inner Zsa Zsa Gabor thinks this room is to die for! Classic cream, French furniture, honeysuckle accents, lucite coffee table, crystal chandelier AND drapes with peekaboo pleats? Daaahling, I love it!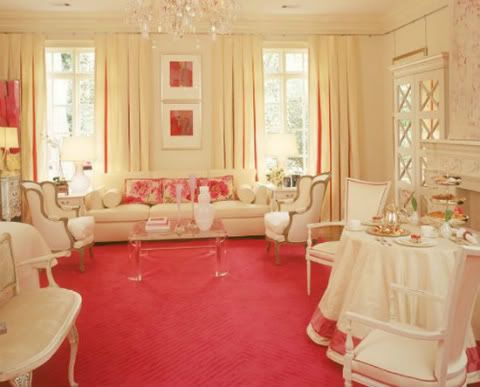 ---
---